I received that ever so popular kids magazine a couple of weeks ago in the mail and I fell in love with this picture...
I knew as soon as I saw this that I could make my own and I did for less than $2.00...Let me show you how!!
Items needed to create the chair envelopes:
Sheets of 12" x 18" Stiff Felt (takes two sheets to make one envelope, $.79 a sheet)

Jumbo and Small rick rack (found in fabric dept)

Hearts (I found mine in the scrapbook section)

Scrapbook letter stickers

Glue Gun

Scissors

Ruler
Start by cutting your stiff felt. Since this sheet is already 18" wide, just cut it in half to 9".
Take your second sheet and make the envelope flap. See below for envelope flap .jpg....
Take one side of your 9" felt and glue the jumbo rick rack all the way around so a little of the curves are sticking out..
This is what it will look like when you are finished....
Now place the other 9" felt on top, like making a sandwich...hot glue down....
Now take your envelope flap and glue a heart onto the bottom corner....
I went ahead and measured my small rick rack out that I was going to use to trim out my envelope flap. Since this rick rack was tiny, I decided to use my Xyron machine and run the strips through it. I have a permanent adhesive cartridge in the machine and so it worked well. I love my Xyron machine and use it all the time!!
This is what the flap will look like after you apply the rick rack. It took one long strip along the top and two of the same size on the left and right.
Hot glue along the top of the flap and adhere to the top of the envelope.
Here is what it will look like after you glue the flap down. I added small strips of rick rack along the edges and bottom to give it a more embellished look.
I don't own a monogram machine but I do have ALOT of scrapbook stickers. These worked out so great.
To attach it to the back of each of our chairs, I glued a strip of ribbon I had left over from Christmas.
And here they are.....my knockoff version of the envelopes...
Each member of the family got one.....
This is what the ribbon looks like on the chair....
This is an easy, easy project that took an afternoon to do. I think they are so cute on the kitchen chairs!
Hope you feel inspired to create a quick and easy Valentine's Craft!!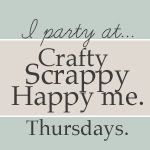 Here is a .jpg of the envelope flap if you want to the print out..I'm lame, I have NO idea how to prepare a .pdf...right click and choose save...it will print on a 81/2" x 11" sheet!!